2012-05-29
Home
Summer in the air and ready to cross the pond. Here is one of the most upbeat mixes I have made, wishing us all a great summer. The theme is the joy of Home, and especially of feeling at home in the World, despite all the boundaries and difficulties "they" throw at us. From Opera to Jazz, not a DJ mix strictly for the dance floor; there is plenty of dance music for sure, or it would not be E-Trash. A feelgood mixtape. It's only music, baby. The
mix is available to download in high quality and also as a downloadable CD
(
Username
: apollo,
Password
: feelingfree).
Tracklist:
01 - Jarvis Cocker - Baby's coming back to me
E-Trash - "New World" Sonatina
02 - Philip Glass - Open the Kingdom
03 - Nicolas Jaar (feat. Nina Simone) - Nico's feelin good
04 - Laurie Anderson - The Beginning of Memory
05 - Vangelis with Don Percival - One More Kiss, Dear (Blade Runner Soundtrack)
06 - Fuckpony - It's only music
07 - Discotronic with Tevin - To the moon and back (Paramond remix)
08 - The Shoes - Time to Dance (Rocky Piano Mix)
09 - Saint Etienne - Tonight (extended version)
10 - The 2 Bears - Work
11 - Toddla T - take it back ( Feat. Shola Ama)
12 - Philosophy Of Sound - freedom, what for (tronik youth remix)
13 - The Jackson Five - dancing machine (henrik schwarz remix)
14 - Rim & Kasa - Love Me for Real (DJ Red Greg Edit)
15 - Kutiman - no groove where I come from (sabbo remix)
16 - Chic - you can get by
17 - Alphaville - jet set (saunaclub mix)
18 - Heróis do Mar Volta p'ra mim
19 - Chromeo - I can't tell you why
20 - Shuggie Otis - aht uh mi hed
21 - Leonard Cohen - Going Home
22 - Joe Jackson - Home town
23 - Sergio Godinho com Clã - Dancemos no Mundo
24 - Tracey Thorn - Grand Canyon
25 - The Rapture - Sail Away (Aeroplane remix)
#disco #pop #dance #e-trash
2012-05-22
Academia's new clothes
Maybe my older colleagues will start to understand why I check all categories when answering "diversity" questionnaires. The emperor is entirely naked. Academic diversity is exposed for the sad, pathetic, hypocrite game it is. I'm becoming hopeful that my generation will finally be able to point the obvious fact that the emperor is naked; thanks very much Ross Douthat: " The appropriate response to [Elizabeth Warren's] tale is probably sympathy rather than scorn. What does deserve scorn, though, is the academic culture in which an extremely distant connection to a Cherokee ancestor ends up being touted by a law school as proof of its commitment to diversity."
A Little Bit Indian - NYTimes.com
2012-05-17
Miles the Soul Surfer
Going back to my Miles Davis collection is like going back home. His trumpet follows my soul like an expert surfer in an old, familiar wave.
2012-05-13
Ma Thang
With the semester over, and for mother's day, Here is a mix I did live strictly for the dance floor! Errors and all. "If this don't make your booty move, your booty must be dead...". The
mix is available to download in high quality and also as a downloadable CD
(
Username
: apollo,
Password
: feelingfree).
Tracklist:
01 - Danny Byrd (Featuring I-Kay) - Ill Behaviour
02 - The Crystal Method - wild, sweet and cool
03 - Smoove - The revolution will be televised
04 - LCD Soundsystem - Us vs Them (Go Home Productions Remix)
05 - Propellerheads (Featuring Shirley Bassey) - History repeating
06 - Santigold (with Buraka Som Sistema) - Big mouth
07 - Da Cruz - Boom boom boom
08 - Afrojack & Shermanology - Can't stop me (club mix)
09 - TJR - Baby Got Jacked (Vocalized Mix)
10 - Pitbull (Feat. Marc Anthony) - Rain over me
11 - Bingo Players vs TJR - Rattle vs booty move
12 - Swedish House Mafia & Knife Party - Antidote
13 - Madonna - Girl gone wild (Justin Cognito extended remix)
14 - The Rapture - How deep is your love? (A-trak remix)
15 - Senor Stereo - Hot damn! (Nadastrom remix)
16 - Madeon - Icarus (extended mix)
17 - Beyonce - Run the world (girls) (Kaskade club remix)
18 - Oliver - Dirty talk
19 - Sister Sledge - Lost in music (Dimitri From Paris remix)
Outro: TJR - Baby Got Jacked (Vocalized Mix
#disco #house #dance #e-trash
2012-05-10
Tenho pena que até neste assunto Portugal não seja capaz de liderar... Como tenho dito, se se deixar este assunto para o Governo, Espanha acabará com as touradas antes de Portugal... Referendo já!
Referendo sobre as touradas
.
2012-05-03
My Top 10 most influential theories and ideas
While grading papers a student asked me what were the top 10 papers in complex systems (since cybernetics) that most influenced me. I don't really have a top 10 list of papers (except for Weaver and Simon, perhaps). But I do have a top list of theories and ideas that I am always revisiting with different writings, and which constantly define and re-define my thinking (more or less in order of importance):
Darwin's Natural Selection
Von Neumann/Turing's description/construction (or genotype/phenotype) distinction
Pattee's semiotic closure
Clark and Chalmer's extended mind hypothesis
General Systems (including Network Science)
Conrad's ideas on evolvability, high-dimensional bypass, and tradeoff principle
Interplay between self-organization, selection, and stigmergy (as motivated by many people like Kauffman, Holland, Grasse, Reynolds, Crutchfield, Mitchell, etc.)
Information Theory and Generalized Information Theory
Vertebrate Immunity (as studied by Segel, Cohen, Coutinho, Forrest, Carneiro, etc.)
Enactivism: Autopoiesis (Varela and Maturana), Conversation Theory (Pask), and Embodied Cognition (Beer, Thelen and Smith)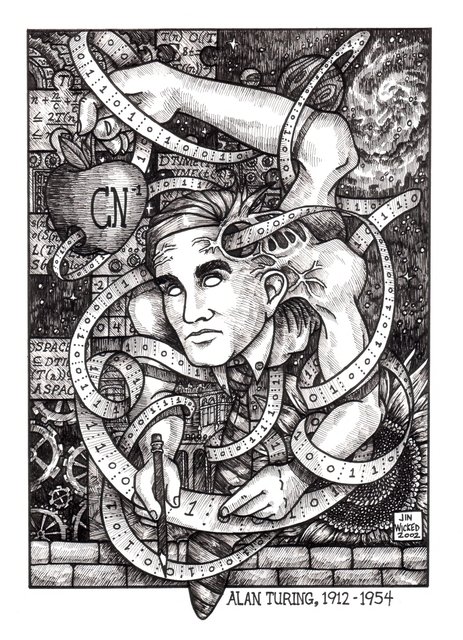 2012-05-02
An increasingly possible future for academia is
a World with 5 global, online universities,
and all research taking place in government and private labs... For a country like Portugal, I would start investing
seriously
on a single, strong, global Portuguese-language online university (Team-up with Brazil and Angola now!), and put research euros in strong labs like Gulbenkian and Champalimaud.